"Occasionally I paint a painting that almost paints itself. Something magical happens and I'm never quite sure what or how…
I relinquish control and let the painting happen"…
"Occasionally I paint a painting that almost paints itself. Something magical happens and I'm never quite sure what or how…
I relinquish control and let the painting happen"…
My work can be located in the relationship between nature and paint.
My recent work explores the "sensitive chaos" effect of water on the land, from the flooding of full rivers and rain on bogs and fields, to the changing tides and power of the sea on the dramatic Irish Coastline.  Water continually strives to return to its spherical form.  It finds many ways of maintaining a rhythmical balance between the spherical form natural to it and the pull of earthly gravity.  This play of movement is a rich source which I draw on for mark making.
Water changes everything. It can both destroy and renew, as with painting, struggle and redemption. The movement and patterns left in its wake engages me completely.
I work firstly in situ, in my native Kildare bogs or the windswept, craggy coast of The Hook Peninsula.  The landscape is a starting point.  Out there I respond to what I feel from the sense of the place.  I choose my marks carefully using oil paint on paper or board and often charcoal and pastels are a favourite tool.  I love the interaction of the elements, especially wind and rain.  All is uncertain.  All is changing, constantly shifting.  The sea caves and passages have a specific resonance for me – taking me deeper into the Earth, deeper into the abstract world of painting.  Back in my studio the work is further developed and often translated or transformed into larger more abstract pieces on canvas.  I like to pare down the experience, remaking my experience through the process of painting.  As Picasso said:
"Painting is stronger than I am. It makes me do what it wants."
"Painting is stronger than I am. It makes me do what it wants."
Today I dropped in two new paintings with Ger Nevin at Reilly's Antiques & art Gallery, Prosperous, Co. Kildare. The large painting"Trees and Wind" (40x120cm) inspired by "Rebuffed The Big…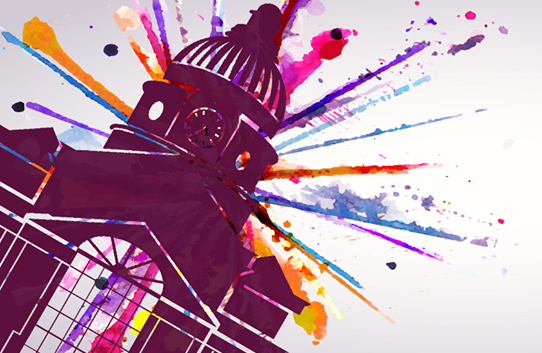 An exhibition of painting, drawing, sculpture, print and photography in historic Market House. One of Ireland's longest running festivals, celebrating the arts for 38 years. The Market House exhibition runs 17th – 19th June.